Liverpool winger Raheem Sterling has wished Wigan Athletic's Ben Watson a speedy recovery after a freak collision between the pair on Saturday left Watson with a suspected shin fracture.
Sterling, who made his England debut midweek, used his Twitter account to offer an apology to Watson following the Reds' 3-0 win at Anfield.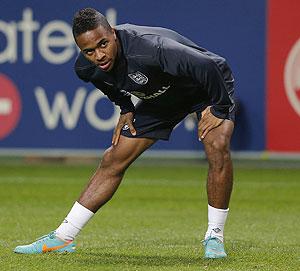 Midfielder Watson was taken from the pitch in the first half when he was struck just above the shin by Sterling's knee as both competed in the air for the ball.
"To Ben Watson I didn't realise it was serious as that ill (sic) be praying for a speedy recovery mate ill (sic) have you in my prayers every day. #sorry," posted the 17-year-old.
Following the defeat, Wigan manager Roberto Martinez expressed concern for Watson as well as Gary Caldwell who has a problem with his hamstring.
"The injury to Ben Watson is a really nasty blow and what we believe to be a broken leg," Martinez told Wigan's official website (www.wiganlatics.com).
"We will have to assess the injury and the treatment that Ben will need before we can judge how long he is going to be missing.
"Ben was starting to have a very strong season and was putting in some commanding performances and it is a real shame to lose him to an injury like that."
Martinez also accused Liverpool scorer Luis Suarez of stamping on David Jones.
Photograph: Phil Noble / Reuters