Liverpool ruined Fernando Torres's much-heralded Chelsea debut on Sunday when they won 1-0 at Stamford Bridge to spoil the champions' hopes of taking advantage of Manchester United's first defeat of the season.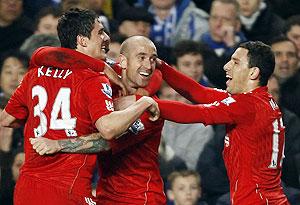 Liverpool defended superbly throughout and secured their fourth successive win -- all with clean sheets -- three minutes later when Raul Meireles took advantage of a mix-up between Petr Cech and Branislav Ivanovic to hook in the only goal.
Manchester United, beaten by bottom club Wolverhampton Wanderers on Saturday, lead the standings on 54 points. Arsenal, who blew a 4-0 lead to draw 4-4 in an incredible match at Newcastle United, are second on 50.
Manchester City are third on 49 with Chelsea and Tottenham Hotspur on 44. Liverpool moved up to sixth on 38.