Manchester United's Brazilian midfielder Anderson will be sidelined until February with a knee injury, manager Alex Ferguson said on Friday.
There was better news for striker Wayne Rooney, who missed Tuesday's 2-2 draw at home to Benfica in the Champions League with a hip injury, as he will be available for Saturday's Premier League match at home to Newcastle United.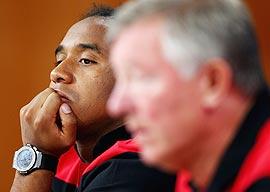 "We've sent him (Anderson) back to Portugal to see the specialist who operated on his knee last time. That's a bit of a blow, we didn't expect that one," Ferguson said.
"Rooney should be okay for tomorrow, he trained yesterday."
Ferguson was already having to manage without injured midfielder Tom Cleverley before the extent of Anderson's injury was known but the Scot was not overly concerned.
"We're not as bad as people think we are in midfield," he said. "We have Ryan Giggs, Michael Carrick and Darren Fletcher, and if we get Tom Cleverley back for Christmas that'll be a bonus. We'll be okay, we have a strong squad."
Asked whether he was worried enough about the midfield to sign someone in the next transfer window, Ferguson replied: "It's dead easy to say you'll go out and buy players but it's not easy to buy players who are good enough for Manchester United, especially in January."