Liverpool's Uruguayan forward Luis Suarez is enjoying a great season.
However, before the English Premier League season had kicked off in August, there was huge drama around Suarez being unhappy at Anfield and wanted out.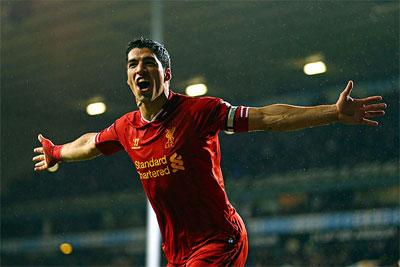 But after a lot of convincing and the club rejecting two offers from Arsenal, he didn't leave. He reasoned that he was staying because of the love of the fans.
Cut to six months later and Suarez claims he couldn't be happier at Anfield after sealing a long-term contract last December.
Suarez has scored 24 goals thus far for the Reds, who are now in 2nd spot on the Premier League table.
And the striker has his hoped high of the club qualifying for the Champions League.
"I'd actually prefer not to win this Golden Boot and for Liverpool to qualify for the Champions League this season," Suarez said, in an interview with FourFourTwo magazine.
"Any player would miss the Champions League. We've not been good enough since I've been here to qualify, but this could definitely be our year", the Guardian reported.
"It would be a frustration not to get fourth because we've done everything possible and given our maximum to qualify. Everyone says Champions League nights at Anfield are amazing -- memories you guard forever. It would be an unforgettable experience and it's been too long since that happened. I think to finish in the top three, which is still possible, would be incredible with the players we have in the squad."
Suarez was asked whether he would stay at Liverpool if they fell short of the Champions League. "I think so," he said.
"I signed my new contract because I'm very happy here and I want to stay where I'm enjoying football and life. Playing in the Champions League isn't dependent on that."
He added: "This is my best season yet. I feel in a very good place, physically and mentally. Every day, I feel better in this club. I hope to continue down this path because we want Champions League football for Liverpool and, personally speaking, I want to continue that mentality throughout the World Cup with Uruguay."
Image: Liverpool's Luis Suarez celebrates a goal
Photograph: Paul Gilham/Getty Images