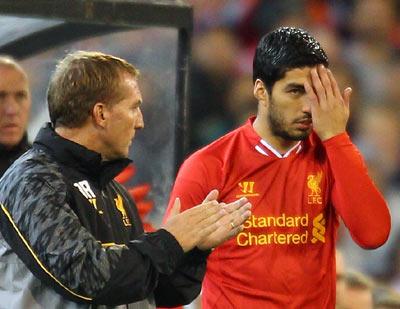 Liverpool striker Luis Suarez wants an "amicable agreement" to leave the club, honouring last year's contract clause that said he could leave if they failed to qualify for the Champions League.

The Uruguay international scored 29 goals in all competitions last season, but after the English Premier League side finished seventh and failed to qualify for Europe's elite club competition he has been the subject of intense transfer speculation.

Liverpool have maintained Suarez is not for sale despite a reported bid of just over 40 million pounds from Arsenal, who finished fourth to make the Champions League play-offs.

"(Last year) We had an offer from a club in the Champions League," Suarez told sports daily Marca on Thursday.

"I looked at the situation with my agent and they told me a new coach was arriving and that the club would push hard for a place in Europe.

"We agreed to renew the contract with a new clause: If we didn't qualify for the Champions League I would be able to leave if an offer for more than 40 million pounds came in.

"The option we have is from a team in the Champions League who are pushing hard for me."

Asked if he would submit an official transfer request to force his exit, Suarez replied: "My idea is to reach an amicable agreement and that they honour the clauses that we agreed a year ago.

"At the moment they aren't doing that."
Photograph: Scott Barbour/Getty Images