Alex Ferguson says his current Manchester United model is a match for any of the previous editions that have rolled off the Old Trafford production line and should they win their last four games it would be hard to mount a case against him.
After beating Aston Villa 3-0 on Monday to seal a record-extending 20th English title, the next target is to reach 96 points - one more than the Premier League points record set by Jose Mourinho's ruthlessly efficient Chelsea side in 2004-05.
United have won 13 Premier League titles under Ferguson, who has now collected 49 club trophies in his long managerial career, and the 92 points they amassed in 1993-94 remains a club record, albeit over 42 games rather than the current 38.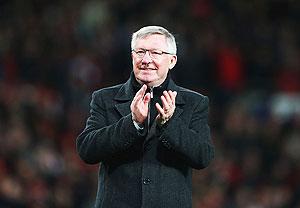 Since then, United have achieved 90-plus points only twice but Ferguson, always keen to raise the bar, will be disappointed if they do not break that barrier again this season to underline their dominance in what has been a below-par Premier League.
After the freakishly close conclusion to last season when neighbours ManchesterCity took the title with virtually the last kick of the campaign, Ferguson has clearly revelled in restoring the balance of power.
His side have been helped somewhat, however, by City's mid-season wobble, Chelsea's managerial merry-go-round and another woefully slow start by former perennial challengers Arsenal.
City boss Roberto Mancini refuses to acknowledge that United are better than his side and he is not alone in thinking that Ferguson's claim is off the mark.
"It's not the reality of this championship," the Italian said after his side's 3-1 defeat at Tottenham Hotspur on Sunday set up United's crowning against Villa.
"There is no gap. They are not better than us but they deserve to win the title."
Churlish maybe, but Mancini, who did admit United had "more attitude" than his team, has a point.
While United have cantered to the title, scoring freely in the process, there have been times when they have looked creaky at the back, laboured in midfield and over-reliant on the goals of Dutchman Robin van Persie - a player Mancini tried desperately to tempt to City.
Had he done so, sky blue ribbons would surely be attached to the Premier League trophy next month.
Included in Van Persie's 24 Premier League goals are numerous crucial late winners, including the 92nd-minute effort in the 3-2 victory over City at the Etihad Stadium in December.
Wayne Rooney is the only other United player to reach double figures in the league this season - his 12 goals a poor return for the England striker whose future at Old Trafford has come under scrutiny in recent weeks.
GOLDEN BOOTS
Ferguson has shown great faith in young forward Danny Welbeck yet he remains far from the finished article and hardly in the same class as some of Ferguson's former strikers such as Andy Cole, Dwight Yorke, Teddy Sheringham or Dimitar Berbatov.
Midfield anchorman Michael Carrick's appearance in the shortlist for PFA Player of The Year has surprised some.
The former Tottenham Hotspur player has scored one league goal this season and though always neat with his passing, has struggled to influence matches in the way Paul Scholes used to on a weekly basis.
There has been a dearth of goals from midfield with wide men Nani, Antonio Valencia and Ashley Young, hugely under-performing. Young's only goal this season was for England in the 8-0 thrashing of San Marino.
Tellingly, Ryan Giggs, aged 39, is United's joint fourth-highest scorer this season with five, underlining Ferguson's debt to the golden boots of Van Persie.
Ferguson will seek to address a lack of creativity in midfield during the off-season, possibly with a bid for Real Madrid's Luka Modric, and will also want to plug leaks in a defence which has already conceded 35 goals during this campaign.
Injuries to players such as Nemanja Vidic and Rio Ferdinand have not helped while Chris Smalling, signed as Ferdinand's eventual replacement, has yet to establish himself.
United have scored three or more goals in 15 league matches this season yet they have not played the swashbuckling, irresistible football seen when Cristiano Ronaldo and Rooney were running riot or when David Beckham was supplying the ammunition for Cole, Yorke and Ruud van Nistelrooy.
Yet despite his team's apparent shortcomings, which led to an early exit from the Champions League, Ferguson has again proved the master at eking out results.
His ability to tweak his team and tactics to cope with circumstances is unrivalled in English football and it is no coincidence that just when Van Persie's goals began drying up, so the defence tightened up.
With Ferdinand and Vidic back in tandem United have kept 10 clean sheets in the league since Christmas. Their points total suggests they have blown away their rivals; in reality they have ground them into submission.
Photograph: Alex Livesey/Getty Images