Manchester United striker Wayne Rooney was glad on Wednesday former manager Alex Ferguson had now backtracked on comments that triggered months of speculation over the player's future.
Before bowing out after winning a 13th Premier League trophy of his almost 27-year reign at Old Trafford in May, Ferguson said the England international had asked for a transfer and his words led to a close season of rumours that Rooney was on his way out.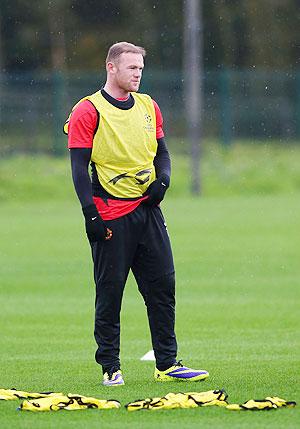 "Thankfully he's come back and corrected the story that I put a transfer request in and he's gone back and proven that I haven't," Rooney said the day after Ferguson's autobiography was launched in which the Scot said the forward "asked away" rather than referring to any formal transfer request.
"I haven't seen him since he retired, I'm happy under the new management. I'm working to get results under David Moyes and his coaching staff so that's the main thing for me. The other stuff doesn't concern me," added Rooney.
"I'm just happy playing my football at the minute. That's the past, I'm looking forward to the future now."
"I feel good, I feel fit, (I'm) enjoying my football so hopefully I can score more goals and keep trying to be successful," Rooney told Sky Sports on the eve of his 28th birthday.
"(My enjoyment comes from) the new coaches that have come in and it's really like a new lease of life... We are working to try and be successful as a team. We have a lot of players who are hungry.
"The results haven't been what we want, and that's what we're working to put right."
United have got off to a shaky start in the defence of their Premier League crown, sitting eighth in the standings with 11 points from eight games, but their victory over Sociedad puts their European campaign on track as it took them top of Group A.
Photograph: Alex Livesey/Getty Images