QPR midfielder Joey Barton has been banned for 12 matches by the FA for his behaviour after his red card at Manchester City.
Barton, 29, was given eight additional matches to the four incurred for his red card, with the extra ban arising from two charges of violent conduct in the melee that followed his dismissal.
The former City and Newcastle midfielder has also been fined £75,000 for his behaviour during the final game of the Premier League season.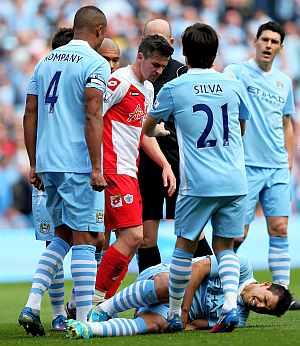 "There are rules of conduct that should be adhered to, and such behaviour tarnishes the image of football in this country, particularly as this match was the pinnacle of the domestic season and watched by millions around the globe," the chairman of the FA regulatory commission said after the hearing, which Barton had requested.
Barton was automatically handed a four-match ban for his 54th-minute red card, which came after he elbowed Carlos Tevez in an off-the-ball incident, as it was his second dismissal of the season.
He was then charged for his actions in the melee that followed, which included kneeing Sergio Aguero and attempting to headbutt Vicent Kompany.