Arsenal has agreed to a six-week return deal with Major League Soccer (MLS) team New York Red Bulls for former captain Thierry Henry, starting next month, in order to rescue them from their catastrophic form in the Premier League.
- Henry could return for third Arsenal spell: Wenger
But boss Arsene Wenger will sound out the chances of keeping him until May with Arsenal's campaign in danger of falling apart.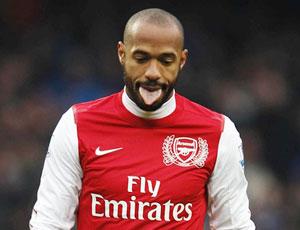 That would mean the French World Cup-winner would miss about a third of the MLS season, which kicks-off in March and is sure to meet resistance from the Americans, the Sun reports.
Henry has been a big hit with the Red Bulls, hitting 32 goals in 61 games since moving to the States in 2010.
The Gunners' all-time leading scorer, who bagged a staggering 226 goals in eight years up to his original 2007 departure, returned for seven games last season and spent three days last week training with the squad.
Emirates sources said he looked in better shape than last season and was open to the idea of spending the rest of the campaign back in the Premier League.
Photograph: Eddie Keogh/Reuters