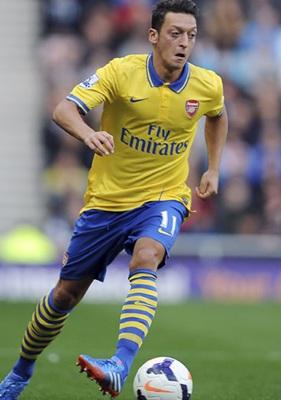 Arsenal's Germany international Mesut Ozil will be out for up to three matches with a shoulder injury, manager Arsene Wenger said on Sunday.
-Chelsea edge past Liverpool, Arsenal go top
Ozil, who joined Arsenal from Real Madrid for a club-record fee on the final day of the close-season transfer window, suffered the injury in their 3-1 win over West Ham United on Thursday.
Ozil misses Sunday's match at Newcastle United and their match against CardiffCity on January 1. He is also a doubt for their FA Cup third round clash against local rivals Tottenham Hotspur on January 4.
"I would have loved him here (at Newcastle) but he had a shoulder problem, he fell on his shoulder. He will be out for two-to-three games," Wenger told Sky Sports.
Image: Arsenal's Mesut Ozil
Photograph: Nigel Roddis/Reuters