England and Serbia will clinch their places in next year's World Cup if they win their qualifying matches on Wednesday while three other European countries can also qualify if results go their way.
England and Serbia can bring the total of qualified teams to 10 if Fabio Capello's unbeaten side beat Croatia at Wembley Stadium in Group Six and Serbia beat 2006 runners-up France in front of 55,000 passionate fans at Red Star's Marakana Stadium in Belgrade in Group Seven.
European champions Spain, Denmark and Slovakia are also closing in on qualification.
Five-times world champions Brazil ensured they would join the host nation and already-qualified Netherlands, Australia, Japan, North Korea and South Korea in the finals after their 3-1 win over Argentina at the weekend in the South American qualifying group.
Ghana booked their place by beating Sudan 2-0 on Sunday to become the first country to qualify from the African preliminaries.
The nine European group winners qualify for next year's finals while the eight best runners-up go into four two-leg playoff matches with the winners also going to South Africa.
Saturday's 21 European qualifiers were never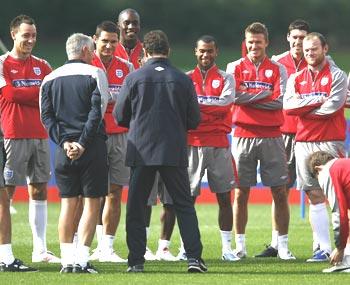 going to produce any new finalists because of the points situation in all nine groups, but that scenario looks all set to change on Wednesday.
REVENGE VICTORY
England have won all seven qualifiers and are keen to avenge their 3-2 defeat at Wembley by Croatia nearly two years ago which cost them a place in Euro 2008 and previous coach Steve McLaren his job.
After beating Slovenia 2-1 in a warm-up friendly on Saturday, England midfielder Steven Gerrard told reporters: "We feel good about qualifying. We are still hurting from the defeat to Croatia two years ago and we need to use that to motivate us on Wednesday. We just want to qualify as quickly as possible."
While England need one more win to qualify, second-placed Croatia also want to win to keep alive their slim chances of an automatic berth. More importantly, a victory for them will mean they stay ahead of Ukraine, three points behind in third place, in the race for the runners-up spot.
Serbia will reach the finals for the first time as an independent nation if they beat France, who could find themselves under extreme pressure to finish second if they lose and Austria beat Romania.
France would then only be one point ahead of the Austrians with two matches to play, although they have the advantage of a home tie against them in their last qualifier in October.
EUROPEAN CHAMPIONS
European champions Spain, who, like England, have won their opening seven qualifiers in Group Five, will also qualify if they beat Estonia in Merida as expected and Turkey win at second-placed Bosnia. Even a draw will do for Spain if Turkey win.
Elsewhere Denmark can qualify for the first time since 2002 if they preserve their unbeaten record with a win in Albania in Group One, second-placed Hungary lose to Portugal and bottom-placed Malta take a point off Sweden.
Hungary, four points behind Denmark and bidding to reach the finals for the first time in 24 years, will severely dent the chances of Cristiano Ronaldo, the world's most expensive player, from appearing in the finals if they beat fourth-placed Portugal.
Slovakia, involved in a battle for top spot in Group Three with a resurgent Northern Ireland, will qualify if they become the first team to beat the Irish in Belfast while Slovenia and Poland draw in Maribor.
While they cannot qualify on Wednesday, world champions Italy will take a big step towards the finals if they beat Bulgaria. Whatever happens, they will want a better performance than they produced on Saturday when they won 2-0 in Georgia courtesy of two own goals from Kakha Kaladze.
Germany, who have appeared in every World Cup since 1954, should beat Azerbaijan in Hanover, but with Russia just a point behind them in Group Four, their fate probably will not be settled until they meet each other next month.
While the race for automatic qualification is heating up, so is the battle for the runners-up places.
Tensions are expected to be at fever pitch at Hampden Park in Glasgow where Scotland need to avoid defeat against the already qualified Netherlands to keep alive their slim hopes of a first World Cup appearance since 1998.
A draw would ensure a second-place finish for the Scots, but a win, with other results going their way, would also boost their chances of sneaking into the eight best runners-up.