Football fans in England are reportedly being pulled into a 15 million euro World Cup ticket scam.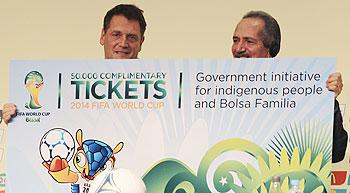 Scammers are illegally selling World Cup tickets online to fans at outrageous prices.
According to Metro.co.uk, an eBay agency claims to have tickets for all the England's group games and is offering a category one ticket for 790 euros for the match against Uruguay in Sao Paolo, selling the ticket at a price that is seven times higher than the actual rate.
Reg Walker, a ticketing expert claimed that hundreds of sites were involved in selling of illegal tickets and predicted that the scam in England alone was estimated to reach 15 million euros. Meanwhile, MATCH services, set up for providing information on Fifa, said that the issue was being looked into.
Photograph: Paulo Whitaker/Reuters