For most of the 95 years that Argentina have been playing Brazil in the great South American "clasico", the Argentines have boasted the better head-to-head record.
In the last four years, though, Brazil have wiped the floor with their rivals, chalking up four crushing victories and one 0-0 draw, scoring 13 goals and conceding two.
Argentina were handed their latest lesson on Saturday when they were beaten 3-1 at home in a World Cup qualifier, a result which guaranteed Brazil a place in South Africa and left Diego Maradona's team to scrap with Ecuador, Colombia, Uruguay and Venezuela.
The roles have been reversed. Brazil play counter-attacking football and Argentina the beautiful game, though it has been ineffective against the five-times world champions.
On Saturday, Argentina clearly failed to learn the lesson of the 2007 Copa America final when they were the favourites after some fine performances but played into Brazil's hands in a 3-0 defeat.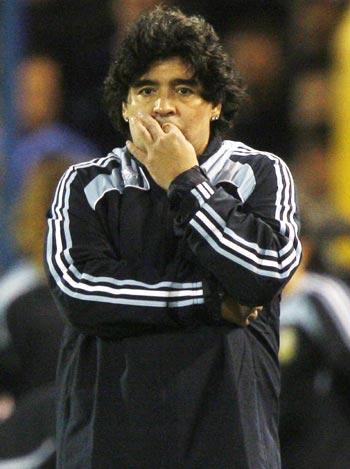 Maradona's tore into Brazil, who calmly weathered the early storm and scored two quick goals to take control.
After a poor World Cup in Germany in 2006, Brazil decided to hand the inexperienced Dunga the reins in much the same way that the Dutch named Marco van Basten and Germany went for Juergen Klinsmann.
Dunga, the arch-pragmatist who had captained his country to their fourth World Cup title in 1994, imbued Brazil with his work ethic and delivered quicker than expected.
He won the Copa America in 2007, the Confederations Cup this year and led his team to 10 wins in a row.
GRONDONA'S CHOICE
Argentina followed suit last year, giving Maradona the job when old-timer Alfio Basile quit suddenly, in a move which was seen as highly risky in some quarters and inspired in others.
There are plenty of good Argentine coaches around, as proved by Marcelo Bielsa of Chile and Paraguay's Gerardo Martino who have their teams with one foot in the finals.
Maradona immediately fell out with Sergio Batista, the quiet midfield general in Argentina's 1986 World Cup-winning team, who had been in line for the job and had shown on his way to the Olympic gold medal with the under-23s in Beijing last year how to play Dunga's Brazil.
Batista's team, which included several players who featured in Rosario on Saturday, adopted a measured, cautious approach, aware of the damage Brazil could inflict on the counter-attack.
They won 3-0, a result which many believed could lead to Dunga -- who had volunteered to take charge of the Olympic team as an extra-curricular activity -- being sacked by the senior side. He survived and has not lost a game since.
After Saturday's debacle, Maradona said he would not quit.
"I'm going to press on like crazy, this won't break me," he told reporters while admitting sole responsibility for the defeat.
Technical director Carlos Bilardo, the coach who steered the team captained by Maradona to the world crown in 1986 and another final four years later, appears to have little influence over Maradona.
The goals Argentina conceded to Brazil came from moves the obsessively cautious Bilardo would have worked at avoiding in his coaching days.
The risk now is the possible absence of twice world champions Argentina and Lionel Messi, Maradona's heir on the pitch, at the 2010 World Cup.
Argentina travel to Paraguay on Wednesday, one of their least favourite venues, knowing that defeat could leave them out of the qualifying places for South Africa.