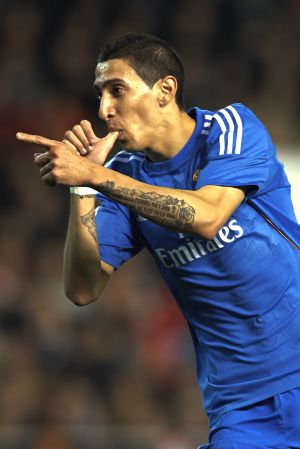 Real Madrid have exonerated Argentina winger Angel Di Maria over an incident in Monday's La Liga game at home to Celta Vigo when he was caught on camera grabbing his crotch while being substituted.
Di Maria denied the action was directed at the fans who whistled him off or coach Carlo Ancelotti and an internal enquiry concluded there was no reason to sanction him, Real said on their website (www.realmadrid.com) on Thursday.
The 25-year-old, replaced by Gareth Bale midway through the second half, insisted it was "a natural gesture" and said he apologised if anyone had found it offensive.
"It is not possible to conclude that Di Maria was responsible for any offensive gestures and lack of respect towards the fans at the Santiago Bernabeu on January 6 and therefore he committed no offence worthy of disciplinary action," the club said.
The incident was widely debated in the media and heightened speculation that Di Maria, who has made fewer appearances since the arrival of world record signing Bale, might be sold either in the January transfer window or at the end of the season.
Ancelotti said on Wednesday he wanted the issue forgotten as quickly as possible so Di Maria could focus on playing.
Image: Angel Di Maria
Photograph: Manuel Queimadelos Alonso/Getty Images