Norwegian cross-country skier Therese Johaug says she is 'devasted' after her country's skiing federation confirmed the 28-year-old had returned a positive test for a banned substance found in sunburn cream on Thursday.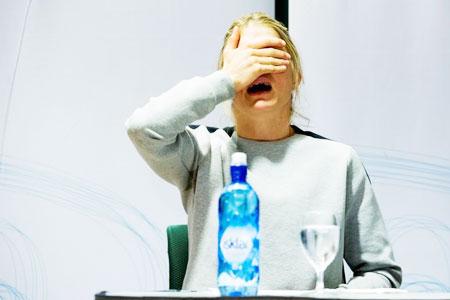 According to the federation, the reigning World Cup champion used the cream bought by her doctor at an Italian pharmacy last month without knowing that it contained the banned anabolic steroid clostebol.
"Johaug has tested positive after using a cream on a sunburnt lip," a Norwegian Ski Federation statement said.
Johaug, who won the first of her two World Cup titles in 2014, has also claimed three Winter Olympics medals, including a gold in the women's 4x5 km relay at the 2010 Vancouver Games, and seven world championship titles.
"I am devastated and despairing after getting into this very difficult and, for me, unreal situation," Johaug said in a statement.
She said she felt the finding was unfair even though "I am of course aware of the responsibility I have as an athlete for the medicine I use".
Norway's anti-doping agency was expected to decide on any sanctions at a later date, the Ski Federation added.
Earlier this year, Norwegian cross country skier Martin Johnsrud Sundby lost his World Cup and Tour de Ski titles from the 2014-15 season after a mix-up over the administration of asthma medicines.
The Court of Arbitration for Sport (CAS) ruled that Sundby had violated World Anti-Doping Agency (WADA) rules. It also gave him a two-month ban.
Sports court finds five Russians guilty of doping
The Court of Arbitration for Sport (CAS), on Thursday, found five Russian athletes guilty of doping, suspending each from competition for four years.
Their cases were taken up by the Lausanne-based court after Russia's athletics federation was suspended by governing body IAAF following revelations of a massive, government-supported doping programme.
The CAS ruling concerned racewalkers Vera Sokolova, Elmira Alembekova, Ivan Noskov, Mikhail Ryzhov and Denis Strelkov, who all tested positive for blood boosting endurance enhancer EPO in June 2015.
"All five athletes have been found to have committed an anti-doping rule violation," CAS said in a statement, adding that their suspensions would retroactively be counted from mid July 2016.
The ruling is the latest blow to Russia's beleaguered athletics programme, which was barred from the Rio Games and is at the centre of a unprecedented doping scandal that led the International Olympic Committee (IOC) to seek a complete overhaul of global drug testing.
The IOC at the weekend called for all testing and sanctioning powers to be taken away from sports federations.
It wants the World Anti-Doping Agency (WADA) to set up a new global testing body and CAS to make all decisions on punishments for those caught cheating.
Image: Norwegian three-time Olympic cross-country skiing medalist Therese Johaug attends a press conference in Oslo, Norway, on Thursday
Photograph: NTB SCANPIX/ Hakon Mosvold Larsen via REUTERS