Striker Clint Dempsey [ Images ] was named US Soccer's 'Athlete of the Year' for 2012, winning the award for the third time and second in a row, the federation said on Monday.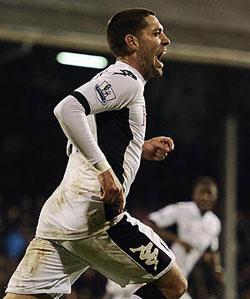 Dempsey, a regular starter in Juergen Klinsmann's U.S. national team, scored 17 goals in the Premier League for Fulham [ Images ] last season and then moved to Tottenham Hotspur [ Images ] during the close season.
The Texan, who scored five goals in this year's CONCACAF qualifiers for the 2014 World Cup, previously won the award in 2007 and 2011.
Under-17 team midfielder Rubio Rubin won the Young Male Athlete of the Year award.