Delhi boy Kshitij Kumar Singh has joined the Dutch NEC Nijmegen football's Under-15 youth squad.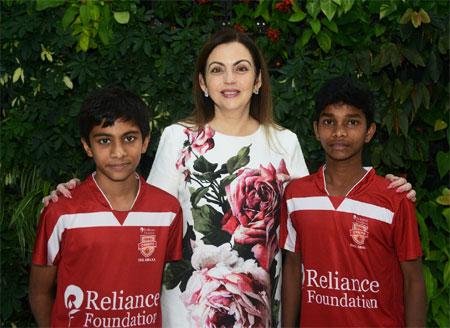 NEC Nijmegen is a professional football club, which competes in the Dutch Eerste Divisie. The club's youth teams feature at the highest level in Dutch Youth Leagues and compete against top European clubs in international tournaments.
The 13-year-old Kshitij, a second year batch student of Reliance Foundation Young Champs (RFYC) residential football program, had been to the Netherlands for two rounds of trials with PSV Eindhoven and NEC Nijmegen earlier this year before his selection in the NEC youth team.
He started playing football at the age of six, initially with BhaichungBhutiaAcademy and then at FCB Escola.
The forward was spotted by Piet Hubers, Technical Director of ISL Grassroots at the Delhi Dynamos Scouting Festival for RFYC scholarship in 2016.
Since last June, Kshitij has participated in 29 competitive and friendly games, scoring 31 goals and providing 25 assists.
Image: RF Young Champs Kshitij Kumar (left) and Balaji with Mrs. Nita Ambani before their trial at NEC
Photograph: AIFF Media