Leander Paes is still struggling to find a successor for himself in India's Davis Cup squad. Instead, all he can see is a reflection of himself in a young man from across the border. Not far from his newly-made home, Mumbai, a 26-year-old from Lahore is scripting some glorious chapters for his country that would make even the old master proud.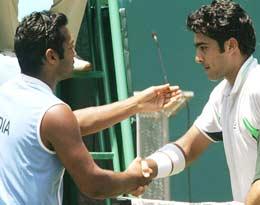 On Sunday, the audience at the Brabourne stadium witnessed both, Paes's guile and passion, and Aisam Qureshi's exuberance and aggression.
After being on the team for 17 years, Paes returned to make sure India maintained a clean record against Pakistan. Qureshi, who has single-handedly kept Pakistan among the cream of Asian tennis for eight years,  gave Pakistan a wing and a prayer to rest on.
Qureshi, whose maternal grandfather Iftikhor Khawaja played Davis Cup for both India and Pakistan, may argue that facing hostile crowds and unfavourable conditions is part of a professional tennis players' life. But when you work so hard that you have to be stretchered to the hospital minutes after the battle, it rarely has much to do with professionalism.
As Paes put it after a similar marathon battle against Aqeel Khan later in the day, "Today the match had nothing to do with tennis. It was all about the mind and heart."
Qureshi came to Mumbai with a formidable Davis Cup record. Last year he made the biggest kill of his career when he beat Paradorn Srichaphan in four sets to lead Pakistan to an unlikely win over Thailand. But taking on the Indian boys, burdened with the hopes of the nation, in the stifling Mumbai heat and before hostile crowds, was a different ball game. And the Pakistani got a taste of it all on the last morning of the tie.
After being outclassed in the first two sets, Prakash Amritraj pumped himself up and the spectators held onto the rare sparks in his game to keep going. All Qureshi could do was smile away at the lopsided support.
"I guess its just experience; I have played enough away ties to know that such small things shouldn't irritate you," said Qureshi.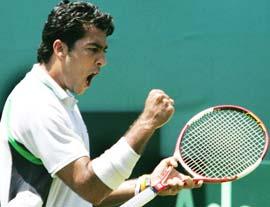 But more than the wild cheers it was the singular yell or a fist pump from Qureshi after winning a crucial point that made up the occasion.
Qureshi cramped up in the fourth set, but after taking his medical time out came out stronger. The points were cut short as he pounced on every weak shot from Amritraj and went for the kill.
"Prakash got a little confused in the fourth set. He started hitting a lot of drop shots to tire me out. He gave me some cheap points. I was concentrating on getting my first serves in because he wasn't returning them well.
"I wasn't thinking too much when I started cramping. I was just thinking about one game at a time. I have lost a few matches in the past, which I should've won, due to cramps. I don't know how I did it; I was finding it tough to stand on my feet. Maybe if it was an individual tournament I would've stopped playing. I guess you have more reserves when you play for the country."
A spanking return winner from Qureshi gave him the vital break in the fourth set and he held up well from there to take the match 6-2, 6-4, 3-6 and 6-3. No matter how much the Indian spectators hated to see their guy lose to a Pakistani, when Qureshi dropped to the ground -- his team surrounding him -- and let a few tears roll, the crowd got up to its feet and applauded a hero.
"I would say it was one of the most emotional moments for me. It was a do or die situation for Pakistan. Being the number one player, my team was counting on me to take them through and, thankfully, I could do it."
India found their very own once again in captain Paes. In a match that lasted for three hours and 40 minutes, Paes enthralled with a still-young grasscourt game and an unbeatable spirit.
Paes was playing alone, but it was the team that battled the heat, the cramps and the shrinking chances. Mahesh Bhupathi and Paes may not play doubles anymore, but when it comes to the team's cause they stand behind the other's back staunchly.
With captain Paes out on court, Bhupathi took his seat and motivated him along. They even did their famous chest-bump in the middle of the fifth set when Paes was fighting on the reserves of the collective will at the Brabourne lawns.
"I had no energy left in me after the fourth set. It was the team and all of you who pulled me through this one," an exhausted Paes told the spectators.
The reserves on the team Vishal Uppal and Karan Rastogi were at their animated best and did their bit by spurring on the crowds, with sponsored cheer sticks and all. When Paes looked like a spent force in the fourth set, people egged him on. Leander Paes losing a deciding home tie was still an audacious thought.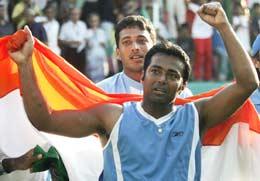 And the 33-year-old, veteran of 108 battles, showed just why he has become synonymous with Davis Cup in India. Be it the medication that finally kicked in, Aqeel Khan's frail spirit or Paes gearing up for the last sprint, it finally clicked for India.
"It was the biggest match for Aqeel. He has never played a legend like Leander before," said Qureshi, who looks up to Paes and Bhupathi for their remarkable contribution to Indian tennis.
Paes served out the final set 6-1 and settled into the arms of an ecstatic team huddle. He later wrapped the Indian flag around him and took a victory lap that sent the audience in frenzy.
The crude words of a young fan, "Leander, you rock man!" was possibly the only thing spoken amidst the gushes, drama and emotion.
Paes later went and acknowledged Qureshi, who was up on his feet after being hospitalized for dehydration. It was a moment of solidarity for the two bravehearts. The waft of passion has certainly crossed a border and drifted to a new generation.