It's a small group compared to the Indians. It will mostly be two Pakistan players versus a full four-member Indian squad in the draining Mumbai heat. But during their first formal press conference, sporting their team jerseys, in Mumbai on Wednesday, the Pakistan Davis Cup team declared that they would "fight it out" against India in the April 7-9 tie.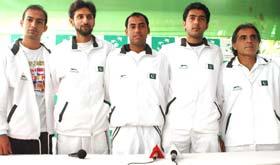 "India would be the favourites to go into this tie," said Pakistan's non-playing captain Rasheed Malik. "It's 60-40 to them right now mostly because they have a brilliant doubles team. But it's not just that one game; there are five points to be collected and we are looking at the four singles matches for some success. We are here to give them a good fight."
Pakistan may not have a great record in the Davis Cup, but have done extraordinarily well to stay afloat in the Asia-Oceania Group I for five years on the trot. They broke into the elite group in 1998 for the first time and have had to face teams like Thailand, Chinese Taipei and Korea with players much higher-ranked than theirs.
"I don't think we gave oursleves too much of a chance against Thailand (last year). We would fool amongst ourselves thinking how are we going to beat them," recalls Asim Shafik, who has played 15 rubbers for Pakistan, of the famous 3-2 victory over Thailand last year. "But we did beat them and have been performing really well for the last 6-7 years.
"All of us are almost the same age, same interests, and the core group has been the same for these years.
"This is the biggest tie for us. We know there is going to be a huge home advantage for India because of the crowd, but Aisam (Qureshi) and I have always played better under hostile conditions."
Qureshi, their number one player, is also upbeat about taking on India on home turf.
"We'll have some 20 Pakistanis to cheer us," he informed, with yet another optimistic smile.
It will be difficult for India to get through the upbeat Qureshi, who even found motivation in the white and green shamiana drapes of the stadium. "You've put up Pakistani flags everywhere!"
"The conditions are not that different from Karachi or Lahore in Mumbai. Only humidity will play a big factor. But as professional tennis players we have to know how to make the most of such adverse conditions," said Qureshi.
Though the visitors have found the practice courts to have low bounce, they think it will work the same for either side.
"No team would have an advantage since even India will be playing here for the first time," said Aqeel Khan, who is the singles contender along with Qureshi.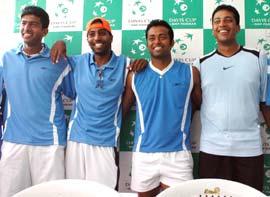 The Indian team was also happy with the preparation and fitness. Mahesh Bhupathi, who has been recovering from a hamstring injury, played the full two-hour session and said he was feeling fine.
"It's a hardworking bunch we have here. It's a fun bunch," said captain Leander Paes.
"Rohan (Bopanna) and Prakash (Amritraj) had their best two sessions yesterday and today morning. That's what I wanted. I want them to peak at the right time."
Bopanna and Amritraj will be the favourites to win the singles spots though the draw will be announced formally on Thursday morning.
Refusing to pick any favourites, Paes said the team would take it match by match.
"I have waited will Monday morning for a result (in Davis Cup). So we will take it as it comes," was his reply.
Also read:
- We're ready for India: Aisam
- US seek grasscourt edge
- Davis Cuppers have a ball
- 'Pakistan will start 0-1 down'
- 'India needs a top-100 player'