Switzerland took advantage of Novak Djokovic's absence to open a 2-0 lead over last year's runners-up Serbia in their Davis Cup tie on Friday with Roger Federer and Stanislas Wawrinka winning their singles rubbers.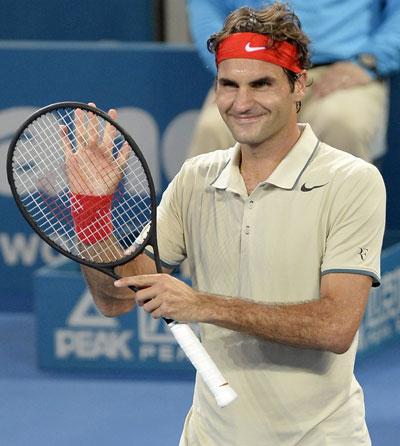 Two months after their defeat by Czech Republic in the final, Serbia fielded a second-string team who were quickly put under pressure in their World Group first round clash.
Federer beat 268th-ranked Ilija Bozoljac 6-4, 7-5, 6-2 while Wawrinka, fresh from winning his maiden grand slam title at the Australian Open, eased past Dusan Lajovic 6-4, 4-6, 6-1, 7-6(7).
France got off to a flier against Australia with Jo-Wilfried Tsonga beating gutsy veteran Lleyton Hewitt 6-3, 6-2, 7-6(2) after Richard Gasquet outclassed Nick Kyrgios 7-6(3), 6-2, 6-2.
The Czechs, who retained the Davis Cup in November, were losing 1-0 to the Netherlands in Ostrava, with Radek Stepanek going down in five sets to Robin Haase before Tomas Berdych plays Igor Sijsling.
Ward's upset win puts Britain 2-0 up on U.S.
James Ward won 10 of the last 11 games to upset big-serving Sam Querrey 1-6, 7-6, 3-6, 6-4, 6-1 on Friday and give Britain a commanding 2-0 lead over the United States in their Davis Cup World Group first-round tie in San Diego.
The 175th-ranked Ward sealed his stunning victory over the 49th-ranked Querrey in just over three hours after Wimbledon champion Andy Murray had crushed Donald Young, the replacement for the injured John Isner, 6-1, 6-2, 6-3 in the opening singles match at Petco Park.
Ward let out a deafening scream after ending the match on the red clay surface with an overhead forehand smash, having improved his Davis Cup singles record to 9-5.