Football star David Beckham is all set to buy a new custom built motorbike for himself.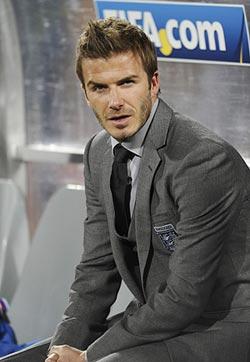 Beckham, 36, says he is keen to get out on the open road on his new vehicle and posted a photo of the low rider bike on his Facebook wall, reported TMZ online.
"Here's the latest picture of the bike I'm getting built from scratch, looking pretty special...," he wrote on Facebook.
The black bike has a low seat and short handlebars, with disc brakes and a huge mudguard over the rear wheel and a sizeable engine.
Beckham has been seen cruising on the bike in recent days over to Malibu in California, wearing an all black outfit, before parking up the bike and hitting the beach.
His passion for motorbikes is one he shares with actor and friend Tom Cruise, and they both own nearly-identical Desmosedici RR bikes, worth around USD 72,500 each.
They are also both said to own special edition USD 90,000 F131 Hellcat Combat bikes and they are even said to have started their own gang, The Midnight Boys Bike Club, in the Hollywood Hills together.
"The boys love to ride. They're out as often as they can. At midnight they can get away with cruising around in a group and seeing the sights of LA without a zillion paparazzi chasing them around.
"They've had so much fun. They are trying to get other Hollywood actors like Orlando Bloom and Brad Pitt to join the group. It's a case of the more the merrier," a source said.