David Beckham will end his Major League Soccer playing career on Saturday but has urged LA Galaxy team mate Landon Donovan not to do the same.
-David Beckham has his hands full after MLS
Donovan has said he is considering his future in the game and has talked of the need for a break while suggesting he could even quit the game.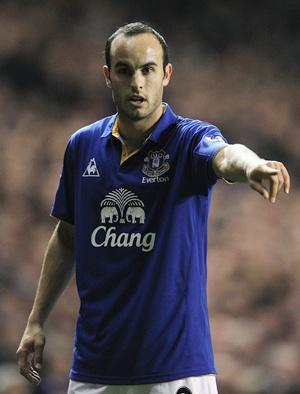 While Beckham is talking of a "new challenge", possibly back in Europe, Donovan has recently questioned whether he will even be playing when the 2014 World Cup finals in Brazil come around.
"Obviously he has said over the last four or five months a couple of times about possibly going to finish this season," Beckham said on Thursday, when asked about Donovan's future in a news conference ahead of Saturday's MLS Cup final.
"Landon is a great player, a great talent, a special talent in this team and this country and he is still young.
"So I personally hope that he doesn't stop playing because I believe that he has still got a good few years left in him," added Beckham, who at 37 is seven years older than the American.
Beckham suggested that Donovan might benefit from a brief time away to recharge his batteries.
"Whether he needs a break, whether he needs to step away from the game and then come back ... at 30-years-old, he is still young.
"Let's hope he continues, let's hope this isn't his last game and that when he said he didn't have the hunger like he used to, let's hope that was just a moment," he added.
Beckham and Donovan will line up against the Houston Dynamo on Saturday at the Galaxy's Home Depot Center as the pair look for a repeat of last year's title victory.
The former England and Manchester United midfielder said he had not noticed Donovan lacking motivation.
"From what I see on the field and the training field, the hunger is still there. I hope a talented player like him continues to play for this team."
Photograph: Dean Mouhtaropoulos/Getty Images