Although flattered by talk of a future in Formula One, Danica Patrick is in no rush to give up her creature comforts just yet.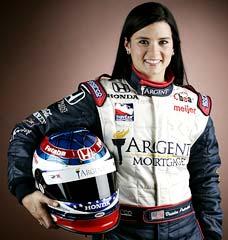 Last season she became the first woman to win Rookie of the Year honours in Indy Racing and the 24-year-old American's immediate priorities are to build on that success in 2006.
"I think it's very flattering. I feel very lucky to have people talking about Formula One and to potentially have that as an opportunity," Patrick said.
"But at this point in time I'm very happy where I'm at. I enjoy living in the States and being near my friends and family. I don't know what's going to happen in the future."
Among her growing list of achievements, Patrick became the first woman to lead the Indianapolis 500 last year, finishing the race fourth to enhance her reputation as the real deal.
Once "dead set" on racing in Formula One, Patrick, who got married last November, admits she is not yet ready for the punishing grind of the F1 circuit.
"I think being away from all of your family and friends...it's something that isn't ideal for me right now," she said before this week's Indy Japan 300.
"Maybe one day I'll want to have a big, beautiful place in Monaco. If I'm happy off-track, I do well on-track. Maybe it will work out with Formula One in the future."
Were she to eventually switch, Patrick would join a small but elite set of females who have plied their trade in the tough world of F1.
Only Italian Lella Lombardi met with any tangible success. Lombardi, who participated in 17 Grands Prix between 1974 and 1976, became the only woman point-scorer with a sixth-place finish at the 1975 Spanish Grand Prix.
There are thousands of websites dedicated to the photogenic Patrick, some racier than your average motorsport magazine.
CELEBRITY APPEAL
She posed for FHM magazine in 2003 but drew the line when Playboy came knocking as her celebrity in the US started to take off.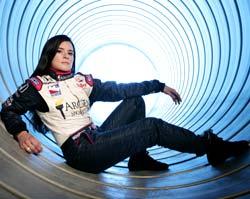 Patrick began her racing career in Europe as a teenager in junior series before returning to America after being spotted by Indy 500 winner and former Jaguar F1 team boss Bobby Rahal.
"I think one of the things I learnt throughout my career...is that there's a lot to life and part of it is being happy," said Patrick, now with Rahal Letterman Racing.
"Being around people you want to be around and to live in a place you want to live -- I enjoy that aspect right now. I think it adds to my performance too."
Patrick's desire for a stable base was brought into sharp focus when team mate Paul Dana was killed in an horrific crash at this season's opening IRL race at Homestead-Miami.
"It's obviously a very sad situation," said Patrick. "It's unfortunate but it's a reality and something we as drivers...know can happen.
"It's our job to get on with it and keep racing. We will focus on that while at the same time keeping in mind that life is precious."
Further speculation about a future switch to Formula One is likely to gather momentum, however, if Patrick continues breaking records at her current rate.
"Maybe -- absolutely," she smiled. "Who knows what's going to happen?
"That might be the option and then I'll be happy and lucky that they want me. But right now I'm good where I'm at."
Photographs: Getty Images