If VVS Laxman is Australia's biggest nemesis, Sachin Tendulkar is every Australian's favourite cricketer.
Ask the Australian athletes at the Commonwealth Games in Delhi and they will concur with that.
Defending Olympic, World and Commonwealth Games pole vault champion Steve Hooker is a sporting legend Down Under, but even he can't help but admire the greatness of the Little Master.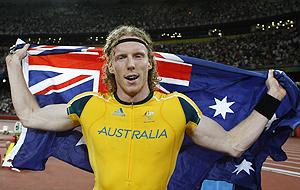 Asked about his all-time favourite cricketer, when rediff.com caught up with him at the Games Village, he was quick to reply: "Sachin Tendulkar… the master! You can't help but admire him! He is an awesome player, no doubt!"
However, he was quick to add that he loves to watch Shane Watson.
"That's a tough question mate! At the moment I like Shane Watson. He is a fine cricketer. He can change the course of the game with bat and ball. He is a fine fielder as well. I think he will play a big role in the [India - Australia] series," said Hooker.
The 28-year-old, whose personal best of 6.06 metres is only second to the legendary Sergey Bubka in the history of the sport, is, like the other Aussies at Games, keenly following the ongoing cricket series.
"Just like India, cricket is quite big back in Australia. This cricket is going to be a battle for the No 1 spot in Test cricket.
"India is the No 1 Test nation, isn't it? Then, it should be an interesting game out there. I will certainly follow it."