Athletes, politicians and students carried the Queen's Baton past major Delhi landmarks on Friday as the symbolic relay neared the end of a global journey two days ahead of the Commonwealth Games opening ceremony.
Having travelled around 190,000 km through 70 Commonwealth nations and territories, the baton arrived in the Indian capital on Thursday as organsiers worked franticly to ensure the Games would enjoy a smooth start after a tumultuous lead up.
The $6 billion event, intended to showcase India's growing financial clout to rival China's spectacular hosting of the 2008 Beijing Olympics, has been hit hard by one setback after another.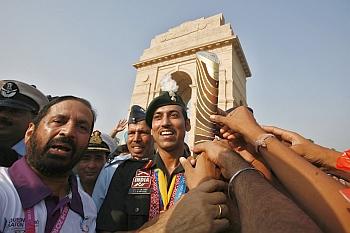 On Friday, Games organising committee chairman Suresh Kalmadi and India's Olympic silver medallist shooter Rajyavardhan Singh Rathore received the baton at the historic India Gate in the presence of jubilant students and military personnel.
Corruption charges swirled around the London leg of the baton's relay, leading to the sacking of three senior organising committee officials, and Kalmadi has been widely criticised for overseeing the event's poor preparations.
An attack by suspected militants that wounded two tourists, a dengue fever epidemic, a filthy Games Village and the collapse of a footbridge has sullied India's image while the event lost much of its prestige when several high-profile athletes pulled out.
Further embarrassment descended on the organisers after a snake was found in an athlete's room while an Indian boxer's bed collapsed in the Games Village.
Outside the complex, beggars have been banished to the outskirts while homeless people who sleep on pavements have suddenly disappeared.
The government has also promised to investigate reports of massive corruption in the awarding of lucrative contracts for the Games.
While some athletes have withdrawn due to security concerns, Home Minister P Chidambaram ruled out any specific threat to the Games.
"There is no basis to that... Kindly give your attention to the Games and enjoy yourself," he said on Friday.
New Delhi has been converted into a fortress for the October 3-14 Games with 100,000 security personnel, including commandos, snipers and police, taking over the city.
MiG fighters and armed helicopters have been put on standby, while helicopters will be patrolling the skies during the opening and closing ceremonies, local media reported.