Despite all the bad press that the organisers got regarding health and security issues pertaining to Commonwealth Games, Jamaican 100m sprint champion Lerone Clarke and silver medallist Englishman Mark Lewis-Francis said that they never thought of skipping the mega event and are now relishing their success here.
Addressing a press conference after the 100m dash at the Jawaharlal Nehru Stadium, Clarke said he practised hard for the Games and the slew of star pull outs can't take away the sheen from his triumph.
"It is the Commonwealth Games, it is a big thing. I will take that way," he told reporters after clocking 10.12secs, the third slowest in Commonwealth Games history.
"I had practised hard for this event and it's an awesome feeling that I have won a Commonwealth Games gold. I had never felt bad (about the negative publicity) and had never thought of pulling out," he said.
Lewis-Francis, who won silver in the European Championships in July, said he and his coach and former Commonwealth Games gold medallist Linford Christie, was gearing up for the mega event and he was happy that he bagged his only second medal in a big competition.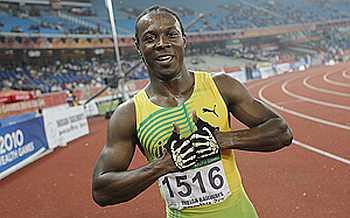 "I was waiting for this event and my coach was telling to go for this. So I am happy that I won my second medal of any big event (after the European Championships). I ran a very good race though I am not taking anything away from Leron's win," he added.
Clarke and Lewis-Francis were also felt there were no deficiencies in the facilities at the Games Village and at the Jawaharlal Nehru Stadium, saying they were world class.
Asked about the complaints by officials of some countries regarding the living conditions in the Village, Clarke said, "I had not raised anything against the Games Village. The felt great about the Games Village, the food and the training areas. I have no issues."
Lewis-Francis was effusive in his praise of the facilities, saying that his silver win will be something to be remembered in his career.
"This is the best venue I have ever run a race. The track is fast and the stadium is superb and the crowd is fantastic. This is the only second time I have won a medal in a big event, I am going to remember this for a long time," he said.