- Images from the Games: Day 1 | Day 2 | Day 3 | Day 4 | Day 5 | Day 6 | Day 7 | Day 8 | Medals Tally
India tasted unprecedented success in athletics at the Commonwealth Games on Tuesday, collecting one gold and four bronze, to swell their medal count in track and field to 12.
The Indian women's 4x400m relay team added another gold to the one won discus thrower Krishna Poonia won on Monday as medals rained for the home country in front of a cheering, near-capacity crowd at the Jawaharalal Nehru Stadium.
The men's and women's 4x100m relay teams, triple jumper Renjith Maheswary and javelin thrower Kashinath Naik bagged a bronze each.
After Tuesday's events, only the men and women's marathon remain in the athletics competition.
In terms of number of medals won, it turned out to be India's most productive day.
On Monday, India swept the women's discus throw, with Poonia winning gold and ending a 52-year-old drought, and Harwant Kaur and Seema Antil winning silver and bronze respectively.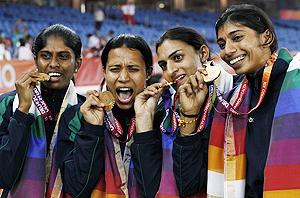 The 12 medals, including two gold, is more than the 10 medals the country had won in earlier editions of the Games.
The women's 4x400m relay quartet of Manjeet Kaur, Sini Jose, Ashwini Akkunji and Mandeep Kaur set the track ablaze, winning the race in 3:27.77s, ahead of Nigeria (3:28.72s) and England (3:29.51s).
Manjeet was in second place at the end of first lap and Jose maintained the position, before Akkunji snatched the lead in the third lap. Mandeep then did well to see off a late surge from a Nigerian to cross the finishing line ahead of the rest.
There were scenes of wild celebration among the Indian officials present at the VIP stand and the vociferous crowd. National coach Bahadur Singh termed it as the beginning of India's emergence as an athletics power.
"We have shown that we can win medals at the highest level. The athletics competition in the Commonwealth Games is of high standard. If we maintain this level for another 3-4 years, India can become an athletics power," Bahadur said.
The medal-surge began with the women's 4x100m relay team of Geetha Satti, Srabani Nanda, P K Priya and H M Jyothi finishing third in a photo-finish with a timing of 45.25 secs, just one-hundredth of a second behind second-placed Ghana (45.24secs). England won gold in 44.19 secs.
It looked like India's final-leg runner H M Jyothi would cross the finishing line in second place but Ghanaian Janet Amponsah did better and the home team had to be content with a bronze.
The men's quartet of Rahamatulla Molla, Krishnakumar Rane, Shammer Mon and Mohd Abdul Qureshi smashed the national record with a timing of 38.89 secs.
The same quartet had set a national record of 39.00secs in Monday's semi-finals.
India were lagging behind in the first and second legs but Mon took them to fourth place by the end of third in the field of eight. Qureshi beat a runner in the final leg to take India to the bronze.
England won the gold in 38.74 secs while Jamaica settled for a silver in 38.79 secs.
Triple jumper Renjith Maheswary broke his own national record, clearing 17.07m in his third of the six attempts. His earlier national record was 17.04m.
Till the fifth and penultimate round, Maheswary was second, behind eventual gold winner Tosin Oke (17.16m) of Nigeria, but Cameroon's Lucien Mamba cleared 17.14m in his final attempt to win silver.
"I thought I would win a silver but I am happy that I won a bronze. I dedicate the bronze to my daughter Jia (born in August)," he said after the race.
In the men's 4x400, India finished seventh in 3:07.60s.
But the surprise medallist of the day was Kashinath Naik, who cleared 74.29m in the men's javelin throw. The gold and silver were won by Jarrod Bannister (81.72m) of Australia and Stuart Farquhar (78.15m) of New Zealand respectively.
"I am not satisfied with my performance; I could do better. But I am happy that India won its first medal in javelin throw," Naik said later.