World No 15 Marin Cilic is under the radar of the International Tennis Federation for failing a drug test during the BMW Open in Munich in April, it has been reported.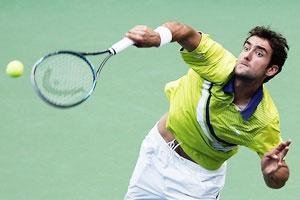 The Slobodna Dalmacija daily credited 'reliable sources' as stating that Cilic failed the test, just two weeks after passing a doping control test at the Monte Carlo Masters, according to The Telegraph.
Another Croatia daily Jutarnji List reported that the 24-year-old had 'incautious use of glucose' in his system.
The former Chennai Open champion has not played since pulling out of Wimbledon with a reported knee injury after reaching the second round.
Cilic is a nine-time winner on the ATP Tour and is a former Australian Open semi-finalist and two-time US Open quarter-finalist.
Just last week the ITF had banned Serbian Viktor Troicki for 18 months for flouting doping rules.
The 27-year-old was found guilty of failing to provide a blood sample during a drugs test at the Monte Carlo Masters.