Thai shuttler Bodin Issara has been suspended by his club Granular until the end of the year for his on-court punch-up with former doubles partner Maneepong Jongjit during Sunday's Canada Open final, local media reported on Saturday.
Trouble broke out in the tie between two Thai pairs after Maneepong and Nipitphon Puangpuapech bagged the first game. At the change of ends Maneepong hit Bodin with his racquet following a heated verbal exchange.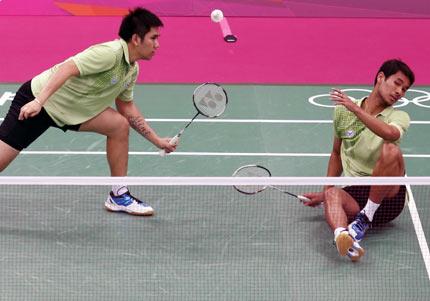 Bodin retaliated by chasing down Maneepong to a neighbouring court and rugby-tackled him to the ground before punching him several times, incurring a disqualification.
In a letter to the Badminton World Federation (BWF), Granular president Jane Piyatat apologised for the incident and said Bodin has been suspended without pay until the end of the year, the Bangkok Post reported.
"We would like to apologise to the BWF, Badminton Canada, sponsors and fans for the embarrassing incident," Jane wrote in the letter, according to the report. "Please do accept our sincere apologies for the inconvenience you may have experienced.
"We have taken steps to ensure that Mr Bodin and his behaviour will become an important lesson for himself and other players. We have decided to suspend him from all domestic and overseas competitions for the rest of 2013.
"During the period, he will not receive salary and other benefits from the club. He will also coach junior players as a community service."
The (BWF) have charged both Bodin and Maneepong for the ugly brawl, the video of which has got over 470,000 hits on Youtube.
Bodin faces a six-month ban from the Badminton Association of Thailand, local media speculated.
Image: Thailand's Maneepong Jongjit (left) and Bodin Isara in action during the London 2012 Olympics on July 8, 2012.
Photograph: Bazuki Muhammad/Reuters