Clifford Miranda played a stellar role in India's 5-0 triumph against Bhutan.
But the team-man that he is, he stays aware that the job has just begun. Stressing there isn't any room for slip-ups, Miranda, in an interview, speaks at length about the team's plan in the SAFF Championship.
Excerpts:
What do you want to say about your performance against Bhutan?
I'm happy that I contributed to my team's victory. It was a crucial match for us. We played well as a team and it gave us a positive result.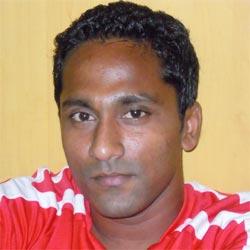 After the opening match draw against Afghanistan, what was the difference against Bhutan?
We took some time to get used to the ground as we had never played at the Jawaharlal Nehru Stadium. The early goal which we conceded against Afghanistan upset our plans a bit. Besides, one needs to admit that Afghanistan are a quality side as several of their players play abroad.
A draw against Sri Lanka will see India through to the semi-finals. What's the mood in the camp?
Sri Lanka are a very capable side. They are very fast and agile. We can't afford to be complacent against them. We will go out to win the match and qualify for the semis.
Is there any extra pressure on the players as India are the defending champions in the SAFF Championship?
We have one thing in mind at present -- to play good football and to win the tournament. There's no other way. The team is desperate to retain the Championship.