France's Jo-Wilfried Tsonga suffered a surprise defeat to qualifier Alex Bogomolov while Spain's Rafa Nadal and world number one Novak Djokovic passed their second-round tests at the Cincinnati Open on Wednesday.
France's Tsonga, a semi-finalist at Wimbledon, fell to the 28-year-old Florida-based, Moscow-born Bogomolov 6-3, 6-4.
Bogomolov, who yet to win on the ATP Tour and ranked 50th, made a name for himself this year with a surprise win over Andy Murray in Miami and he now gets another shot at the Briton in the third round.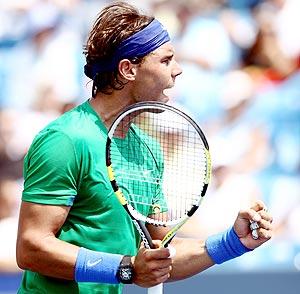 "I learned a lot about myself during that match just because it was a lot of pressure. It was my hometown. It was on the stadium where I grew up in Miami," said Bogomolov.
"Now it's a little bit different. It's a third round of a Masters Series instead of a second round but we're going to have the same game plan going in."
Djokovic moved his season record to 54-1 with a 6-2, 6-3 victory over Ryan Harrison.
The Serb now has a 30-0 record on hardcourts after recovering from an early break from 19-year-old Harrison.
"It was a slow start, not a good start. I wasn't serving so great today but I think everything else was quite good.
"From the baseline I wasn't making a lot of unforced errors. I was returning a lot of balls in and played quite good really for the opening match."
Both Murray and Nadal suffered early exits at the Montreal Masters last week but there was little hint either would fall to the same fate on Wednesday.
Murray, the fourth seed, overcame a sluggish start to record a 6-4, 6-1 win over Argentine David Nalbandian, setting up a third-round match against Bogomolov.
"I was definitely better today than last week," said Murray. "I need to try and keep that up for the next match and hopefully play just five, ten percent better tomorrow than I was today."
World number two Nadal also put last week's setback aside, beating French qualifier Julien Benneteau 6-4, 7-5 in just over 90 minutes.
The Spaniard won all three break points he gained in a comfortable display and will now face compatriot Fernando Verdasco, who beat France's Michael Llodra 6-4, 6-4.
Nadal was forced to play with bandages on two fingers on his right hand, which he said were the result of handling a hot plate at a restaurant and suffering blisters.
Germany's Philipp Kohlschreiber followed up his first round win over Andy Roddick with a 6-1, 6-4 win over Spain's Feliciano Lopez.
Nadal burns fingers on hot plate in restaurant
Rafa Nadal is renowned for burning up calories with his all-action game but on Wednesday it was a curious case of burned fingers for the Spaniard at the Cincinnati Open.
World number two Nadal was forced to play his second round match with two bandaged fingers on his right hand after burning them on a hot plate at a restaurant in Ohio.
"I got burned. I had a little bit of accident in a restaurant a few days ago," Nadal told reporters after beating Frenchman Julien Benneteau 6-4, 7-5.
"It was an accident. The plate was very, very hot and I got burned," added the Spaniard, who said the blistering was causing some discomfort during play.
"A little bit. If you see the blister, you can imagine. I am going to show you now," he said with a grin.
Photograph: Getty Images