Olympic Gold Quest, an initiative to support talented Indian sportspersons in their quest for Olympic medals, signed a Memorandum of Understanding with the Confederation of Indian Industry, on Friday, to promote sports at the grassroots level through the involvement of corporates.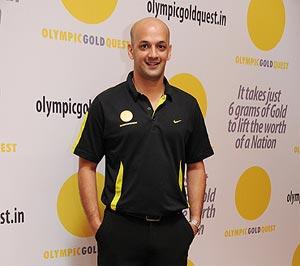 The MoU, signed between CII Director General Chandrajit Banerjee an OGQ Director Geet Sethi, did not envisage any immediate infusion of money by the apex industrial body but a series of initiatives to raise funds for athletes, mainly with an aim at the 2016 and the 2020 Olympics.
Sethi said the MoU would lead to involvement of the corporate sector in the development of sports in the country.
"The huge network the corporate world has, it will help raise the funds so that more and more athletes get sponsorship from us. The partnership with CII will help reach every nook and corner of the country to spot talent," Sethi said.
He said in the next 10 years, India should aim to win Olympic medals consistently.
"The sporting identity of India should not depend on the cricket World Cup but to consistent success at the Olympics. Time has come for India to win Olympic medals consistently. We need much more corporate involvement in sports," said the former world billiards champion.
"We are not for conflict with national sports federations. We can't provide the infrastructure or can't do regulation of sports but want to be a movement in micro management of talented athletes in their endeavour to excel by giving immediate and professional assistance," he added.
Welcoming the MoU, CII Director Banerjee said, "CII is committed towards building India's image as a sporting nation by encouraging corporate involvement in sports. By signing the
MoU, the CII plans to promote corporate participation in this endeavour of OGQ."
OGQ Chief Executive Officer Viren Rasquinha said CII's involvement would be a huge boost to his organisation in raising funds for supporting sportspersons.
"A sustained model of fund raising is key to an effective long term approach to the challenge of grooming young talent effectively to become future Olympic champions," Rasquinha said.
"The MoU is the first step. We will now have a series of meetings. How to raise funds is an important part of it and the CII has the reach and bandwidth to ensure corporate sector's involvement in sports," he said.
Asked if the CII will be involved in the preparation of OGQ-sponsored athletes for the London Olympics, Rasquinha said, "London is too near and the CII's involvement is more of long-term, for 2016 and 2020."
"We have 34 athletes with us now from five disciplines of boxing, badminton, shooting, archery and athletics and 10 have already qualified for London.
"With CII's involvement, we are hoping to support 100 athletes by 2020. We are going to add another 12 sportspersons very soon," said the former Indian hockey team captain.