Fresh from a two-month break, ace Indian cueist Pankaj Advani is eyeing a good start in the new season with the Six-Red National Championships to be held in Bangalore from March 7-16.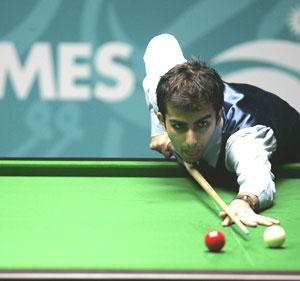 Advani, the world professional billiards champion, is currently practising hard under watchful eyes of coach Arvind Savur and wants to put up some good performance in the season opener before appearing in selection trials for the 2010 Asian Games.
"I hope to come out with some good performance in the Six-Red National Championships in Bangalore before appearing in the selection trials for the Asian Games to be held in Guangzhou, China," Advani said.
"From this week I will completely get back into the playing mode. I took a break and it was really refreshing before an action-packed year ahead.
"There are so many tournaments to look forward this year. I will try to put up good show and bring more laurels to the country," Advani added.
Advani, who had last played in the VIP Matrix All-India Invitational Snooker in Chennai in December where he entered semi-finals, feels that shorter version of the sport was completely "unpredictable".
 "Six-red is totally unpredictable and uncertain. You don't know what is going to happen next. You need to apply different techniques and play with a different mindset as well, depending on the conditions," Advani said.
Advani, however, was quick to add: "It's great that the Billiards and Snooker Federation of India is now promoting the six-red version and organising a national championship also.
"It is surely going to attract more people into the game."
The Bangalore cueist, who became world snooker champion in 2003, has no desire to settle for professional snooker circuit in England that involves a lot of money.
"I am not interested in going to England and that is my decision. I am playing well at both national and international levels. People should respect my decision as they do Sachin Tendulkar's wish not to play in Twenty20 cricket," Advani said.
Advani, who after clinching the Professional World Billiards title in England last year had said he has "nothing more to prove" to anyone, is now playing in selective tournaments to avoid burnout and prolong his career.
"Burnout issue is on my mind and that's why I pick and choose tournaments. I don't play in each and every tournament. I have learnt to say no to people," he said.