After years of preparation and $325 million (181 million pounds) of investment China will host a Formula One Grand Prix for the first time this weekend.
Few locals will get the chance to watch, however.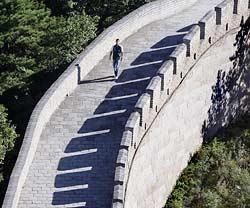 With race tickets ranging from 370 to 3,700 yuan (25 to 250 pounds) in a country where the average annual wage is 560 pounds, the spectacle is beyond most people's pockets.
Although all 150,000 tickets were sold a month ago, many went to sponsors, organisers, the well-connected or touts.
Black market prices for 3,700 yuan tickets have soared to around 10,000 yuan, the Shanghai Daily said.
Yu Zhifei, deputy general manager of the Shanghai International Circuit, said ticket sales amounted to about 300 million yuan, the Shanghai Daily reported.
Shanghai has planned their big moment for years, building an ultra-modern circuit designed by German expert Hermann Tilke with a giant wing 140 metres wide spanning the main straight.
The overall shape is designed to represent the Chinese character 'Shang', as in Shanghai, meaning top.
Formula One has yet to earn a big following in China but organisers hope the Grand Prix will change that.
"I'm not very interested in cars, so I'm not going to go," said Zhang Yongjia, 25, who is in the construction business.
"But I think my girlfriend's company has a lot of tickets, so if we do get one, I might show up."