China's double Olympic gold medallist Sun Yang has mended fences with his coach and laid down a marker ahead of this year's World Championships by winning the 400m freestyle at the National Swimming Championships, local media reported.
Sun's relationship with coach Zhu Zhigen had reportedly soured amid concerns the 21-year-old swimmer's private life was affecting his training.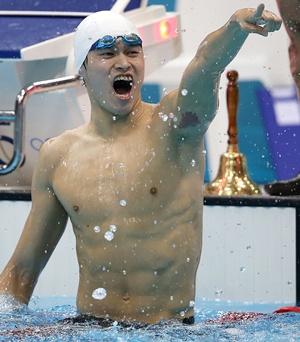 He was also suspended from all commercial activities in February for breaching a "series of team rules" and had one month's training allowance withheld.
Sun finished nearly four seconds ahead of his nearest rival at the meet on Monday and will look to improve steadily ahead of the July 19-August 4 World Championship in Barcelona.
"I am just 70 to 80 percent of my best level," Sun was quoted as saying by Xinhua news agency.
"My coach knows me better and I hope I can do better in the World Championships," said the Olympic 400m and 1,500m freestyle champion, who returned to normal training last month.
Sun shot to fame at the London Games where he became the first Chinese man to win an Olympic swimming gold medal, transforming him into one of the country's most sought-after sportsmen.
"As you know I just resumed training for a few days, so I think the result is OK," added Sun, who also holds the 1,500m freestyle world record.
"I am still dealing with my shoulder injuries. I swam about 20,000 meters a day, so my shoulders are always in bad condition."
Photograph: Jeff Gross/Getty Images