In huge development in the I-League, India captain and striker Sunil Chhetri was snapped up by debutants JSW Sports on Friday.
Chhetri's signing for JSW Sports, which is launching its club in Bangalore on Saturday, ends weeks of speculation over his future.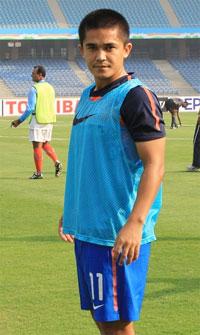 "I met people at JSW a few months ago and the first thing that struck me was the passion behind all the planning. I want to play for a club that's clear about its vision and I saw that in JSW. I know I am coming from a champion team but that works as more motivation here," Chhetri said.
Chhetri had signed a two-year contract with the reserve side of Sporting Clube de Portugal last season before he came on loan to Churchill Brothers towards the fag end of the last I-League season.
He had recently said that he would travel to Portugal and speak to the team management before deciding his future course of action as he was not getting to play there.
On his decision of signing for a club that will be making its I-League debut this season, Chhetri said he did not need any prodding.
"Choosing JSW was not really tough because the people seemed genuine. We need to think long term. We are a young team and we would not want to harbour high hopes. I am not setting any targets but I'm sure we can achieve a lot of things if we stick together," said the 28-year-old striker who has scored 37 goals in 66 appearances for the country.
On the possibility of leading a young side, Chhetri said, "I'm used to taking burdens and I'm going to give everything I am capable of, to this club. We are going to need everyone – right from the ball boy to the owners – to be behind us at all times and I am sure we can repay their faith."
Chhetri is the second national team player to be signed by the Bangalore-based club after fellow-striker Robin Singh agreed a deal with the club last week.