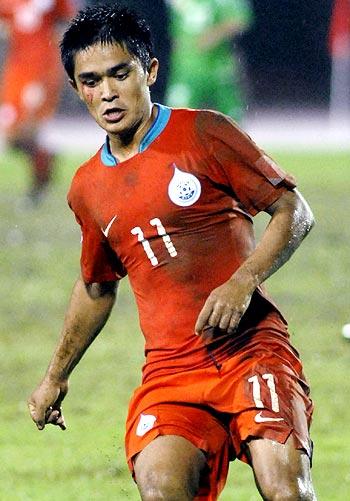 Indian striker Sunil Chhetri's dream of playing for English Championship side Queen's Park Rangers ended prematurely after the British government denied him work permit.
Chhetri had signed a three-year contract with QPR a few weeks back, although it was kept under wraps.
The club has been working to get Chhetri's work permit to play in England but on Saturday, the Delhi lad's agent informed him that it was rejected by the British government.
According to the newly launched website of Football Players Association of India, Chhetri was denied permit since India is not in the top 70 in the FIFA rankings and the British government does not grant permit to non European Union players whose country is ranked below 70.
Queen's Park Rangers, which is partly owned by steel magnate Laxmi Mittal, had been following Chhetri's career for over a year and were happy with his development as a player.
QPR CEO had also come down to see Chhetri in Barcelona where the Indian national team had a month-long training tour recently in preparation for the ongoing Nehru Cup.
Asked why he kept the contract with QPR under wraps, Chhetri said, "I had signed with QPR few weeks back and I knew I still would have had to wait for a work permit. So with lots of stories about me playing in Europe and with having a bad experience with the media in the Coventry case, I was sceptical."
"I am disappointed because the work permit is something that I can't do anything about, being so close and not getting it is indeed disappointing. But it's not the end of the world. I will still continue to work hard for my country and my club Dempo, who have been very supportive," he added.
Indian captain and his strike partner in the national team, Baichung Bhutia said, "Sunil (Chhetri) would surely have done well in Queen's Park. He has the ability to play even in the Premier League with one or two years of experience in the championship with QPR.
"It's sad that Indian team does not play enough international matches and that is a big set back for our ranking as well as our development. This is also a reason why today Sunil is not playing in England," added Bhutia, who was the first Indian to have played in English professional league for Bury FC from 1999-2002.