Veteran Indian tennis player Mahesh Bhupathi on Monday indicated that all his issues with the All India Tennis Association (AITA) have been sorted out and he may represent the country in the upcoming Davis Cup tie against Korea.
- The AITA is either misinformed or delusional: Bhupathi
Bhupathi and Rohan Bopanna were banned by AITA for defying the London Olympics selection but Karnataka High Court had stayed the ban when the players appealed against it.
Both Bhupathi and Bopanna had refused to team up with Leander Paes for the London Games.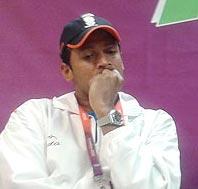 "I have made myself available. AITA had sent me an email asking me whether I am available for selection and I have said that I am available.
"Court case has been stayed for months and months ago. As far as I know, the AITA has sent me an email asking me whether I am available for selection. I have said that I am available. Obviously, it is good that they have done that," Bhupathi said ahead of the Chennai Open.
Specifically asked if he is ready to pair with any player, an apparent reference to Paes, Bhupathi said, "I have made myself available. That is the bottom line. There is no point in speculating as to who is going to play with me. They asked me whether I am going to play, I said yes."
- Guess I will have to die without an Olympic medal: Bhupathi
Talking about Chennai Open, the season-opener, Bhupathi said there are several contenders for the title. 
"Daniel ask me about it last year and we have playing. Planning to play with him the whole season. Besides us,  Leander and Roger are strong combination.  Rohan and Rajiv Ram is a dangerous duo. Obviously we are all playing with new partners for the first time and it is going to be interesting," he said.
Bhupathi said he worked on a few aspects of his game during the off-season to adjust to the style of play of Nestor. "I was working on my forehands for switching sides because Daniel is a strong ad court player. Few changes that I had to make."
Previously many top players, including Rafael Nadal and Boris Becker, have played in Chennai and Bhupathi said it gives the fans a reason to be happy.
"Over the years barring Roger Federer we are pretty much attracted. Quite an amazing group of talented players come for it from Rafa to Boris [Becker] to [Yevgeny] Kafelnikov and so on. Even this year Tomas Berdych is six in the world. It all depends on how they want to plan their schedule for a new season. It is not very easy but I am glad that talents come to India."
Bhupathi hopes that more Indian players will make it to the singles main draw in future.
"Obviously at some point we would like Indian boys to come through qualifying to main draw. Rohan did that a few years ago and Yuki had done that. There are lot of opportunities for Indian players as the tour is not as tough. Hopefully, we will see many Indians would be coming through qualifying to main draw," he said.
Photograph: Harish Kotian/Rediff.com