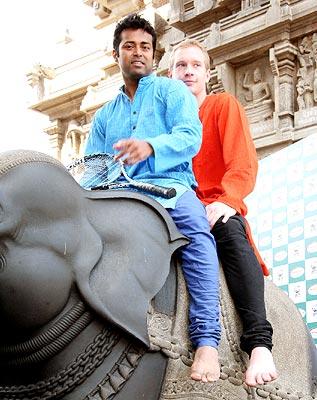 Tamil Nadu Chief Minister J Jayalalithaa has sanctioned Rs 2 cr for the event
Chennai is termed India's tennis capital and is gearing up to host South Asia's only ATP World Tour tennis event.
The event, scheduled for December 30-January 5, would be sponsored by the Tamil Nadu government, as well as major companies, including AirCel and Murugappa Group.
Tamil Nadu Chief Minister J Jayalalithaa has sanctioned Rs 2 crore for the event. She has also approved an equal amount for the event every year, for the three years up to 2016. Earlier, she had sanctioned Rs 4.5 crore to upgrade the Sports Development Authority of Tamil Nadu's tennis stadium in Nungambakkam, which hosts the event every year.
While telecom major Aircel would continue to be the title sponsor for the event, the Tamil Nadu government will be the lead platinum sponsor.
M A Alagappan, president of the Tamil Nadu Tennis Association and a member of the Rs 22,500-crore Murugappa Group's promoter family, said the 19th edition of the tournament in India wouldn't have been possible without the ardent support of the state government and other sponsors. He added to conduct the event, $2 million (about Rs 12.6 crore) was paid to IMG Tennis, promoted by IMG Reliance (a sports management company promoted by Reliance Industries and IMG).
"We may have some marginal shortfall, which we bridge by roping in some sponsors, as well as through ticket sales," he added.
While Aircel has provided Rs 5-5.5 crore, the Murugappa Group, Indian Overseas Bank, Untied India Insurance and India Bank have given Rs 1 crore each.
The stadium in Nungambakkam has a seating capacity of 5,800. To attract crowds, the organisers are planning to schedule matches that largely involve Indian players during the first three days.
Alagappan said Swiss player Stanislas Wawrinka had confirmed his participation. When Wawrinka had played at the Aircel Chennai Open last year, he was ranked 17; now, he is ranked eighth.
Image: Leander Paes and his then partner Lukas Dlouhy during Chennai Open in 2009