Harry Redknapp was seemingly on the verge of scaling the highest peak in English soccer but, just six weeks later, he has been brought down to earth with a bump after being jettisoned as manager of Tottenham Hotspur.
When the "people's choice" to replace Fabio Capello as England boss was overlooked in favour of Roy Hodgson on May 1, few would have predicted it was the beginning of a remarkable descent that culminated in Redknapp being sacked by his club on Thursday.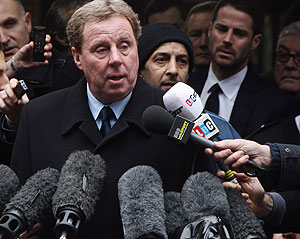 In a familiar pose, he leant out of his car window to address a waiting reporter and explained his dismissal had nothing to do with the media circus that had followed him around from the minute Capello announced his departure.
"No effect whatsoever," the 65-year-old said on Sky Sports News. "I kept my counsel about that all through and in the end England was nothing at all to do with anything."
Nor was it anything to do with his side's loss of form following Capello's resignation that saw Tottenham drop from 10 points clear in third place, to one point behind rivals Arsenal at the at end of the season.
Although they scraped into fourth place, they were eventually prevented from entering the Champions League next season when Chelsea won the competition having finished sixth in the table.
Redknapp's managerial CV is also far from gilded.
He won the FA Cup with Portsmouth in 2008 but this stands out as the principle shining beacon of success in a career spanning nearly 30 years.
He did, however, succeed in bringing together a collection of players at Tottenham who have the talent to mount a title challenge.
Photograph: Dan Kitwood/Getty Images