Under pressure Arsenal manager Arsene Wenger has hinted towards leaving the north London club on Tuesday at the Emirates stadium.
CL Photos: Bayern in charge after 3-1 win at Arsenal
Angrily dismissing reports about being offered a new contract at Arsenal, Wenger sarcastically said that everyone is going to miss him when he is gone from the club, the Daily Mirror reports.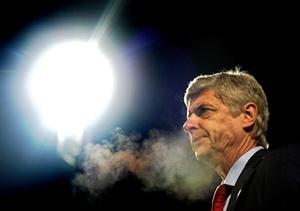 According to Wenger, whose current contract will end in 2014, he may not have quality, but he was committed enough for the game and the club during his 30 years of reigning at the top level.
The Arsenal boss said that even though he had been criticised for being a bad manager, he never did any unethical work like taking bribes.
On their forthcoming game, Wenger said that it was important for Arsenal, not because of Saturday's loss against Blackburn, but because the club had come a long way ahead from the depressing start of the season.
Photograph: Laurence Griffiths/Getty Images