Arsenal's substitutes' bench was a man short against Bayern Munich on Tuesday after the Premier League side got caught up in red tape.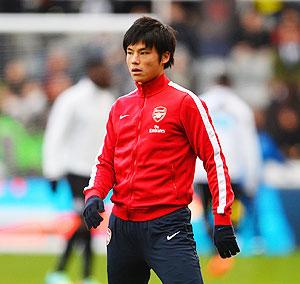 Arsenal brought midfielder Ryo Miyaichi with them to the Allianz Arena for the Champions League last 16 tie against the holders, only to find he was not eligible to play.
"He was not qualified to play in the Champions League because I wanted to give him out on loan, so we took him out of the list and UEFA informed us today that he is not qualified," manager Arsene Wenger told reporters.
"Because he was on the bench on Saturday (against Everton in the FA Cup), naturally he was with us but honestly that did not have an impact on tonight's result."
Teams are allowed to pick seven substitutes for Champions League games. Arsenal drew the second leg match 1-1 but lost 3-1 on aggregate.
Image: Ryo Miyaichi
Photograph: Michael Regan/Getty Images