Malaga coach Manuel Pellegrini will arrive in Germany in time for the Champions League quarter-final against Borussia Dortmund on Tuesday after returning to Chile for the funeral of his father.
-Preview: Barca wait on Messi; Real, Bayern smell semis
Malaga defender Martin Demichelis said Pellegrini, who flew back after a 4-2 defeat to Real Sociedad on Saturday in La Liga, had not told his players anything before that game.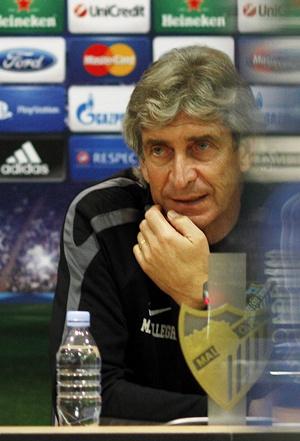 "He will be with us tomorrow and we will try everything to advance for him," Demichelis said.
"We would like to win this one for him. First our coach did not tell us about his father passing away, that shows his greatness."
Malaga are attempting to reach the competition's last four in their debut season, a feat Pellegrini achieved with Villarreal in 2005-6.
"There is no special way to succeed here," said Demichelis, who played for Bayern Munich between 2003-2010. "We have to show our qualities tomorrow, lots of running, aggressiveness, intelligent play and confidence."
Dortmund are the only undefeated team left in the competition.
"Nothing was given to us so far and we will not give away anything for free either," said Demichelis.
Photograph: Jon Nazca/Reuters