A selection of statistics surrounding Bayern Munich's 4-0 victory over Barcelona in the Champions League semi-final first leg on Tuesday.
* Barcelona conceded four goals in a Champions League match for the first time since losing 4-2 to Chelsea in the last 16 in March 2005.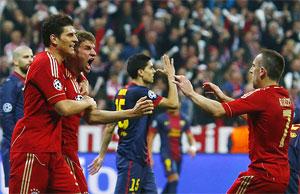 * The last team to beat Barcelona 4-0 in the competition were Dynamo Kiev in the group stages in November 1997.
* No team has ever lost the first leg of a Champions League/European Cup tie by four or more goals and progressed to the next round.
* The last time Barcelona's Lionel Messi featured in a team that lost 4-0 was in Argentina's 2010 World Cup quarter-final against Germany. Thomas Mueller, who scored twice on Tuesday, netted in that game too.
* Barcelona only had one shot on target against Bayern, the joint lowest they have managed in the Champions League this season.
* In all competitions Barcelona have not lost 4-0 since they were beaten by Getafe in the King's Cup in May 2007.
Photograph: Michael Dalder/Reuters