An FC Copenhagen fan has made a complaint to Danish police after the club cancelled Champions League tickets ordered by supporters with non-Danish sounding names.
- Champions League: FC Copenhagen cancels tickets for 'non-Danish' fans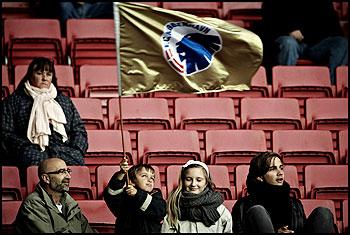 "We believe it is a clear breach of racism legislation, of human rights and of the constitution," Kashif Asmad told TV2 on Tuesday.
The club has said that it implemented the "security measure" to stop away fans from group rivals Juventus, Galatasaray and Real Madrid mixing with home supporters at the Parken Stadium.
Copenhagen host Juventus in their opening Group B game later on Tuesday.
Lawyer Pia Justesen said there was a good chance of securing a conviction against the club under anti-discrimination legislation.
"There is no doubt that, when criteria are set whereby persons with foreign names don't have the same opportunity to buy tickets, it is discriminatory to ethnic minorities," she told TV2.
Photograph: Klaus Sletting Jensen/EuroFootball/Getty Images