Manchester City players who were sitting next to Carlos Tevez in the dugout will tell investigators that they did not hear him refuse to play at Bayern Munich.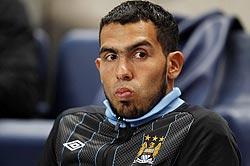 Legal representatives will interview the players along with manager Roberto Mancini and Tevez as part of a probe at the club following the astonishing events in the Allianz Arena.
- Man City suspend 'finished' Tevez for defying coach
- Charting bad boy Tevez's fall from grace
Tevez has been banned for failing to take the field and has been accused by Mancini of refusing to play.
The former captain told Sky Sports after the game that he wasn't in the right frame of mind, but, on Wednesday, insisted he had "warmed up and was ready to play."
He claimed there was "confusion on the bench" and that his position may have been 'misunderstood'.
Mancini is aware he must avoid a split in his dressing room 24 hours before City play Blackburn in the Barclays Premier League, the Daily Mail reports.
Mancini believes Tevez has no future at the club, but wants City to sell his former captain in the transfer window, rather than sacking him if the allegations against him are substantiated.
Mancini fears the dispute has already wiped 30 million pound off the player's transfer value to somewhere near the 20 million pound mark.
Meanwhile, The Guardian reports that Mancini is targeting Arsenal captain Robin van Persie for a possible January transfer to fill in the void that could be left by the departure of Tevez.