AC Milan have made a habit of muddling through under coach Massimiliano Allegri and they did it again on Wednesday by scraping into the Champions League knockout stage with a performance which left opponents Ajax Amsterdam fuming.
Ajax coach Frank de Boer accused Milan of playing "anti-football" after the Serie A team shut up shop against his side following midfielder Riccardo Montolivo's first-half sending-off.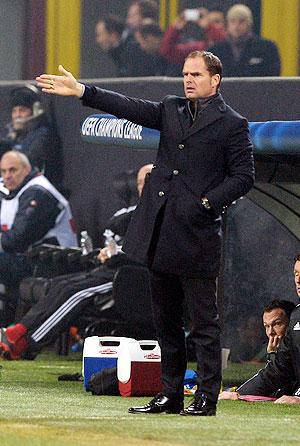 Playing for over an hour with 10 men, Milan held out grimly for a goalless draw, giving them the point they needed to carry the flag for Serie A after Napoli and Juventus were knocked out.
"If you look at the two matches against Milan, I think we deserved more," said De Boer.
"Anti-football won. It's incredibly difficult to beat Milan, even when they're down to 10 men. With 11 men they're willing to play, but not with 10.
"They did everything to keep it to 0-0. That's their right, but it's very frustrating. The referee should have accorded more extra time, because sometimes it took them a full minute to throw the ball in."
"We did everything we could," he said. "But the ball simply wouldn't go in. I don't know how many passes from the sidelines came, but we just came up short each time.
"But I'm proud of the team. I think we showed that as Ajax, we don't need to bow down to anyone. We could just as well have been among the 16 clubs who will play Champions League after the winter break."
Throughout the group stage, crisis-ridden, injury-plagued Milan have looked least likely to make an impression on the tournament this season, yet somehow have been left as Serie A's sole survivors.
Milan began the group by scrambling to a 2-0 win over Celtic with both goals in the last 10 minutes after a disjointed performance and were even more fortuitous to draw 1-1 with Ajax in Amsterdam.
Mario Balotelli won and converted a hotly-disputed penalty to give Milan a point which ultimate proved decisive.
CONTROVERSIAL QUALIFICATION
Milan qualified in the first place in controversial circumstances after a 2-1 at relegated Siena on the last day of last season lifted them into third place in Serie A, which earns a place in the playoff round.
Needing a win to pip Fiorentina, Milan trailed 1-0 with six minutes left before equalising with another controversial penalty, won and converted by Balotelli and then snatching a last-gasp winner.
Their campaign was played amid a seemingly never-ending injury crisis and against the backdrop of some dismal Serie A form which has seen them win only four out of 15 games, with political intrigue also thrown into the mix.
Chief executive Adriano Galliani at one point quit his role after nearly 28 years at the club after Barbara Berlusconi, daughter of club president Silvio Berlusconi, said Milan needed a new philosophy. Peace was quickly declared and Galliani agreed to share his role with Berlusconi's daughter.
Allegri has somehow clung on to his position, despite constant rumours that he is to be replaced, remaining unflappable throughout.
"Everyone's relieved, we've achieved the first target of the season," said Allegri. "It was important for me, the group, the club and the supporters."
"We deserved to qualify because we've had the right attitude in this group," said goalkeeper Christian Abbiati. "We've played six good matches, now we have to take this to Serie A as well."
With Stephan El Shaarawy finally back from injury and Kaka and Mario Balotelli finally finding their form, Milan, for all their failings, could suddenly provide a real threat in the knockout stages.'
Photograph: Claudio Villa/Getty Images