World Wrestling Entertainment's (WWE) star performer and champion John Cena will be see in Mumbai on 9th and 10th of February, courtesy of Ten Sports.
To those of you who are scratching your heads wondering who John Cena is?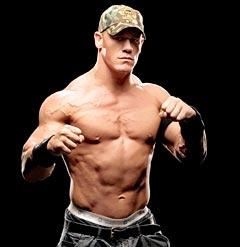 Well to cut a long story short he is the biggest phenomenon that has hit the world of wrestling in the recent past.  Sporting baggy jean shorts and a throwback jersey, Cena is not your traditional stereotype wrestler and will often get amped up signaling the end for his victims by pumping up his kicks leading to him dropping his trademark
Cena has also taken time out from the ring and released his debut rap album, 'You can't see me'.
Wrestler, rapper and it doesn't end there. 2006 will also see Cena play the lead role in the major motion picture -- The Marine.
Cena's fan zone is another marvel that has taken aback the WWE in total surprise. Cena however has a different take on this subject. Cena has dubbed his fans as members of his crew -- The Chaingang.
"WWE are thrilled to bring John Cena to India in conjunction with Ten Sports," said Jonathan Sully, senior vice-president International Marketing, WWE.
"India represents a very important market for WWE and everyone recognizes and appreciates the continued support from the fans and Ten Sports. In response to this support we are bringing John Cena, one of our biggest superstars to India to say thank-you to these partners and fans in person"
"Bringing Cena down to India is part of our efforts to go beyond the telecast and bring the WWE experience closer to the viewers," said Sharmista Rijhwani, managing director, Taj Television India Pvt Ltd.
Before Cena took up wrestling, he was an All-American football player at Springfield College and a successful bodybuilder. A dedicated WWE fan, Cena watched from the bleachers as his heroes Hulk Hogan, Ultimate Warrior, Shawn Michaels and Bret Hart competed. He left college to join a wrestling school and quickly began working as an Ultimate Pro Wrestler. The rest, as they, is history.
Ten Sports, launched in April 2002, is available in over 30 million households via cable and satellite networks in India.
In just a short span of three years, Ten Sports has also become the world's biggest producer of international cricket. The Channel broadcasts cricket from Sharjah, the West Indies, Pakistan, Sri Lanka and Morocco throughout the Indian sub-continent and Asia, as well as in Europe and the Middle East.
Cena's itinerary:
9th February, 2006: 11.00 am. - Event at Crossroads, Tardeo, (Meet-and-greet with fans and media)
10th February 2006: 9.30 am - Meet children from Akansha at the C.K.Naidu Hall (Cricket Club of India), 7.00 pm - Event at Nirmal Lifestyle, Mulund