Reader
Bhavdeep Virdi
sent us these pictures from Chennai.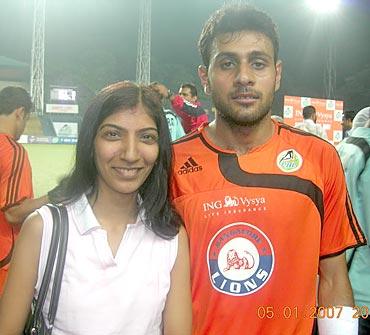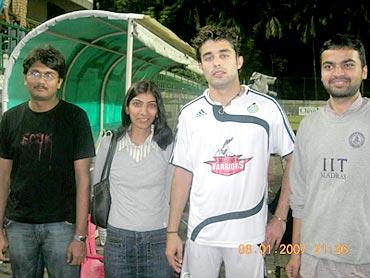 'We went to watch the Premier Hockey League matches on January 5 and 6. In the first picture, it is my wife Trupti with Rehan Butt, representing the Bangalore Lions. He is a real cool person and obliged us for the photo after his match against Maratha Warriors,' writes Bhavdeep.
'In the second photo, it is Imran Warsi representing the Maratha Warriors, after his match with Sher-E-Jalandhar. From left to right: My friend Ashwin, my wife Trupti, Imran Warsi and my friend Akhilesh Bansal. Warsi was dead tired after the match and said 'Yaar main bahut thak gaya hoon (Friends, am very tired)'. We asked him to sit on the chair but he was very nice to stand with us for the photo.'
'Pakistan players are a big hit in Chennai at the Premier Hockey League,' added Bhavdeep.
If you encounter your favourite cricket/sports personalities, send us your photograph on sportsdesk@rediff.co.in. We will feature the best images right here on Sports or Rediff Cricket.