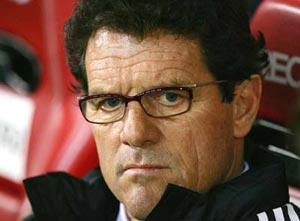 Russia manager Fabio Capello and Juventus coach Antonio Conte voiced support on Saturday for the introduction of 'time-outs' during matches in a move they said would benefit players, managers and commercial partners.
While time-outs are used extensively in major sports in the United States - baseball, basketball and American football - such a rule change in football would face resistance from many in the game who argue that breaks would interrupt the flow of matches.
Similar concerns have also been voiced in relation to the increased use of technology, such as tracking systems to tell if the ball has crossed the goalline which has been trialled in the English Premier League for the first time this season.
"Time-outs would be nice things to have as, from the bench, it is difficult to communicate a message during the game. So a two-minute time-out would be useful for a manager," Conte, who is aiming to secure a third successive Serie A title with Juve this season, told a conference in Dubai.
Capello also noted the tactical advantages for coaches that a time-out would bring as well as pointing to health and commercial benefits.
"Time-outs to hydrate would leave players in better shape and would allow the clubs to get more revenue," said Capello, who has won multiple league titles in Italy and Spain and was coach of the England team for over four years.
During time-outs in US sports, advertisements can be shown both in the stadium and to live television audiences.
Breaks during matches played in extreme heat or humidity have long been advocated so that players can take on water to replace that lost through sweating.
For the World Cup in Brazil next year, the organisation representing players globally, FIFPro, and Italy coach Cesare Prandelli have called for drinks breaks to be authorised, given temperatures in north-eastern cities such as Fortaleza and Recife often soar above 30 degrees Celsius.
Attitudes towards the importance of players' health have come a long way since 1994 when Jack Charlton, then manager of Ireland, was chastised by FIFA for trying to give his players water during a World Cup match in the US played in searing heat.
Pep Guardiola, coach of European champions Bayern Munich, and the third member of the panel in Dubai, noted that water breaks were granted in the German Super Cup final in July due to the heat and that it had not caused any problems.
Capello added that water breaks were taken in Russia when games are played in high temperatures and that concerns over their disruptive nature were false.
"In Russia, in the heat, they have a one-minute water break to hydrate. I timed them all in the last season and the longest ever was one minute and 10 seconds," he said.
Image: Fabio Capello